Solid Color Hard Plastic Top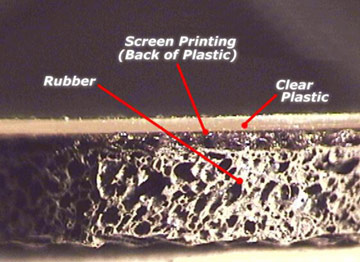 Plastic Top Mousepad are a little more rigid than the cloth top Mousepad. The graphics are protected under the clear plastic and it is easier to wipe clean. The mouse rolls very smoothly on this surface. This process is only for solid color graphics similar to a business card type graphics where the logo is one solid color etc. Shading cannot be done in this process, it is however available as a full color Plastic top option.

The plastic top mousepad in solid color is printed on the back side of the clear plastic. This clear plastic material is polypropylene or Lexan®. After printing the plastic is glued on to the Natural Rubber bottom part of the mousepad.

Pricing Info Below
This way the graphics are protected by being sandwiched between the Plastic and the rubber. The graphic reproduction quality is excellent for this type of mousepad. This is why we ask that you send scanned artwork at a minimum 300DPI resolution. On the right you see a sample of an actual Plastic Top mousepad printed in one color (and of course the background).

For pricing, please look below in the charts. These pads are available in 2 thicknesses and a variety of sizes. So please find one that matches your needs. Just as a guideline, 1/16" is approximately the thickness of 1/2 of a 3 1/2" computer diskette*, 1/8" is (approximately) a little more than 1 diskette thick*.


---
1/8" Thickness (1 Color + 1 Color BG Clear Hard Top)
Specification
Length x Width
Quantities
Mousepad
250
500
1000
2500
5000
7.5" x 8.5"
2.57
2.27
2.05
1.95
1.75
8" x 9.5"
2.67
2.37
2.15
2.05
1.80
8" Round
2.77
2.37
2.15
2.05
1.80
Print an order form (Click and Print when the new window pops up)
Request an Official Quote | Order form for Full Color Cloth Top Mousepad

---
3/16" Thickness (1 Color + 1 Color BG Clear Hard Top)
Specification
Length x Width
Quantities
Mousepad
250
500
1000
2500
5000
7.5" x 8.5"
2.67
2.47
2.25
2.15
1.95
8" x 9.5"
2.77
2.57
2.35
2.25
2.00
8" Round
2.87
2.57
2.35
2.25
2.00
Print an order form (Click and Print when the new window pops up)
Request an Official Quote | Order form for Full Color Cloth Top Mousepad
---
Setup for Solid Colors : $45.00 per Color (No Setup for orders of over 1500 pieces)